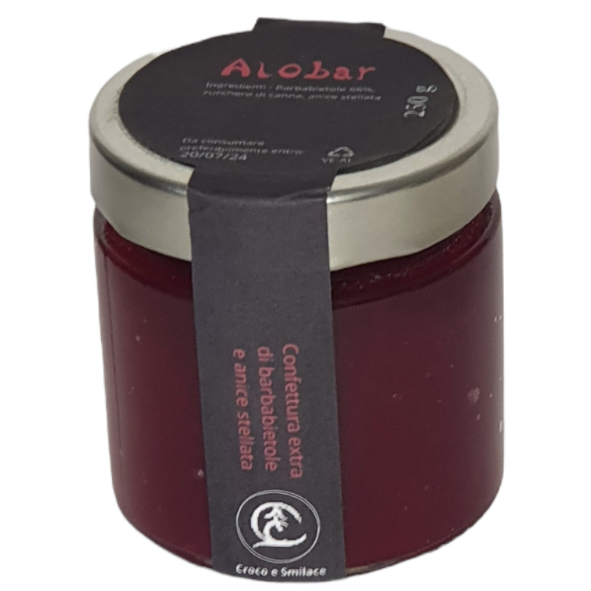 Alobar
Confettura extra di barbabietole e anice stellata
Alobar è una confettura extra di barbabietole e anice stellata in cui il sapore caratteristico dell'ortaggio si sposa felicemente con le note amaro-agrumate del bergamotto calabrese e con quelle dolci-speziate dell'anice stellata.
Abbinamenti: piatti a base di carne, (cacciagione soprattutto ), formaggi a crosta dura come il parmigiano e il Castelmagno , caprini freschi, yogurt, cheese cakes, dolci da credenza, come crostate e biscotti a base burro.
Ingredienti : Barbabietole rosse 66%, zucchero di canna, anice stellata, olio essenziale di bergamotto.
Alobar is an extra jam of beets and star anise in which the characteristic flavor of the vegetable marries happily with the bitter-citrus notes of Calabrian bergamot and with the sweet-spicy notes of star anise.
Pairings: meat-based dishes (especially game), hard-crusted cheeses such as Parmesan and Castelmagno, fresh goat cheese, yoghurt, cheese cakes, sideboard desserts, such as tarts and butter-based biscuits.
Ingredients : Red beets 66%, cane sugar, star anise, bergamot essential oil.
If you are a customer who wants our
products outside Italy, please fill 
in the form below. You will be
contacted as soon as possible