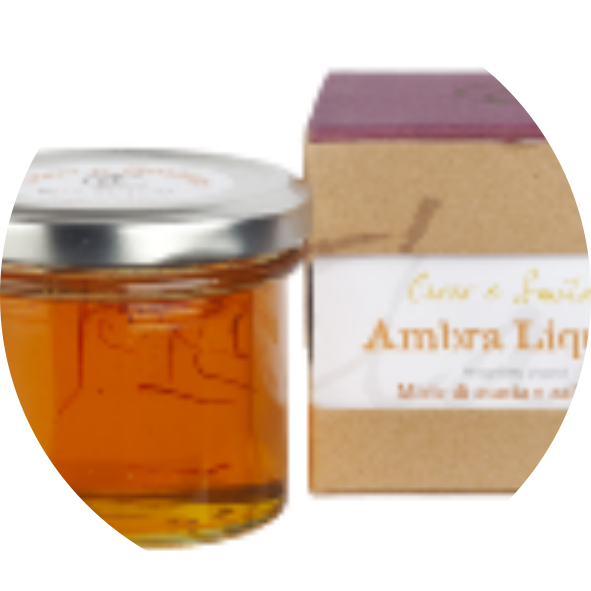 Ambra Liquida

Miele di acacia con zafferano

Ambra Liquida, antica ricetta medievale, a base di miele di acacia con zafferano, è un miele di acacia arricchito con zafferano. Usato a quell'epoca per lenire la prima dentizione. Il suo colore ricorda la resina fossile. La sua consistenza avvolgente è impreziosita dalle intrusioni magenta dei pistilli che ne costituiscono la nota di testa supportata dalla base delicata e dolce dei fiori di acacia.
Abbinamenti consigliati: formaggi in tutte le loro declinazioni, lardo, laccatura per arrosti e crostacei, ripieno della pasta con un tocco di pera e ricotta, dessert, gelato, insalate di frutta, yogurt, frutta caramellata, thé, tisane. Ideale per la prima colazione
Ingredienti: miele di acacia, zafferano purissimo in stigmi.
Ambra Liquida, an ancient medieval recipe, based on acacia honey with saffron, is an acacia honey enriched with saffron. Used at that time to soothe the first dentition. Its color is reminiscent of fossil resin. Its enveloping texture is enhanced by the magenta intrusions of the pistils that make up the top note supported by the delicate and sweet base of acacia flowers.
Suggested pairings: cheeses in all their forms, lard, lacquering for roasts and shellfish, pasta filling with a touch of pear and ricotta, desserts, ice cream, fruit salads, yoghurt, caramelized fruit, tea, herbal teas. Ideal for breakfast.
Ingredients: acacia honey, pure saffron stigmas.
If you are a customer who wants our
products outside Italy, please fill 
in the form below. You will be
contacted as soon as possible