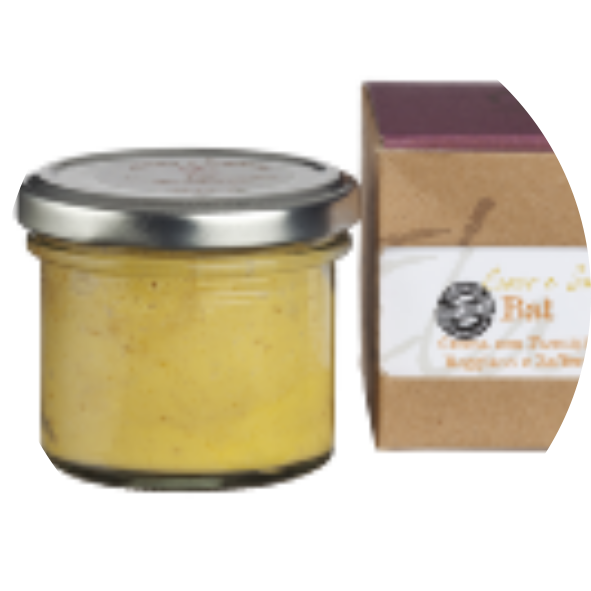 Bat
Condimento a base di Parmigiano reggiano e zafferano
Bat, divinità egizia dal cui latte ebbe origine il cosmo è il nome che abbiamo scelto per proporvi questo originale abbinamento tra il re dei formaggi e il re delle spezie. La nota "metallica" dello zafferano esalta infatti la sapidità pastosa del Parmigiano creando un indovinato connubio di sapore.
Ottimo per condire piatti a base di pasta o per mantecare il vostro risotto. Potete provarlo nel ripieno della pasta fresca, magari con l'aggiunta di qualche tocchetto di pera oppure per preparare un cheese burger gourmet
Ingredienti: Panna, Parmigiano Reggiano DOP ( latte, sale, caglio ), latte intero, farina di frumento, sale, zafferano
Bat was the ancient Egyptian goddes of the milk, the Great Mother whose milk originated our cosmos: the Milky Way.
We chose her name to celebrate this new pairihg between the king of cheeses, and the king of spices. The bitter flavor, we could say "metallic" of saffron magnify the sapidity of Parmigiano with a final tasty combination to try.
Eccellent for seasoning dishes of pasta or mix your risotto. You can try it in the filling of fresh pasta, perhaps with the addition of some pear or to prepare a gourmet chesseburger.
 
Ingredients: Cream, Parmigiano Reggiano cheese (milk, salt, rennet), whole milk, wheat flour, salt, pure saffron threads.
If you are a customer who wants our
products outside Italy, please fill 
in the form below. You will be
contacted as soon as possible