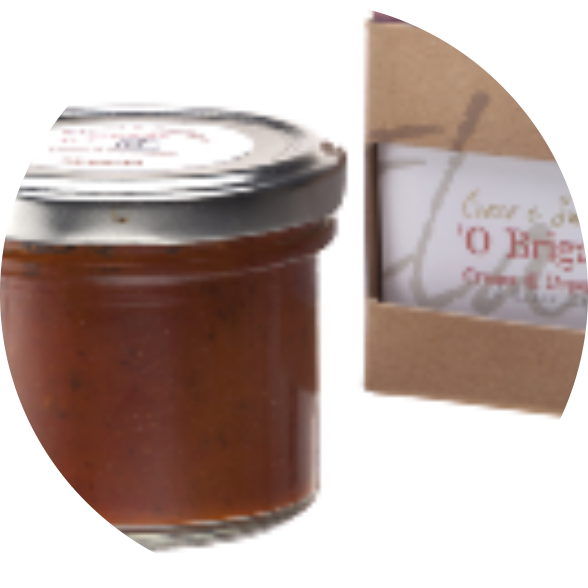 'O Brigante

Condimento a base di peperoncini
'O Brigante, condimento a base di peperoncini, è una salsa ottenuta da una mistura di spezie. I peperoncini e la menta coltivati nella nostra azienda (tondo calabrese e jalapeño), con aggiunta di anice e cumino provenienti dal Marocco.
Ottima per preparare bruschette e stuzzichini e per condire primi piatti, magari con l'aggiunta di tonno.
'O Brigante accompagna inoltre piatti di carne, hamburger e pollo fritto, sushi, e un' inedita panna cotta. Il suo livello di piccantezza non è destinato a stordirvi per il resto del pasto, ma agisce come un delizioso supplemento nel Bloody Mary, oppure lo potete usare con uova, pizza, insalate e altro ancora.
Rende il gusto della pizza indimenticabile. Perfettamente bilanciato tra piccante e gradevole sapore, si rivela non eccessivamente piccante, lascerà le vostre papille gustative desiderose di provarne di più.
'O Brigante è prodotto con peperoncini accuratamente selezionati. Questa deliziosa salsa piccante è priva di glutine, vegana, a basso contenuto di sodio e perfetta per qualsiasi dieta.
Ingredienti: Peperoncini, olio di oliva, acqua, aceto di vino bianco, cumino, sale, zucchero, anice, menta.
'O Brigante, a chili-based condiment, is a sauce obtained from a mixture of spices. The peppers and mint grown on our farm (Calabrian round and jalapeño), with the addition of anise and cumin from Morocco.
Excellent for preparing bruschetta and appetizers and for seasoning first courses, perhaps with the addition of tuna.
'O Brigante also accompanies meat dishes, hamburgers and fried chicken, sushi, and a brand new panna cotta. Its level of spiciness isn't meant to knock you over for the rest of the meal, but it does act as a delicious supplement to Bloody Marys, or you can use it with eggs, pizza, salads, and more.
It makes the taste of pizza unforgettable. Perfectly balanced between spicy and pleasant flavor, it proves not to be overly spicy, it will leave your taste buds eager to try more.
'O Brigante is produced with carefully selected peppers. This delicious hot sauce is gluten-free, vegan, low sodium, and perfect for any diet.
Ingredients: Chilli peppers, olive oil, water, white wine vinegar, cumin, salt, sugar, anise, mint.
If you are a customer who wants our
products outside Italy, please fill 
in the form below. You will be
contacted as soon as possible