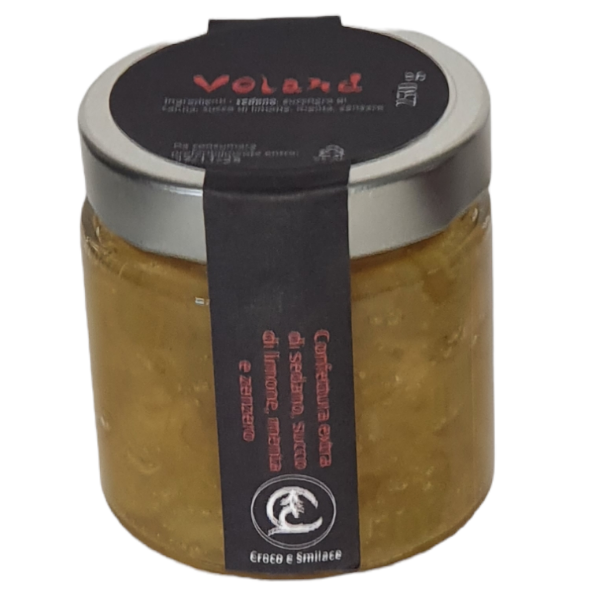 Voland
Confettura extra di sedano, limone, menta e zenzero

Confettura in cui il sedano cubettato viene lasciato leggermente croccante.
Le note amare dell'ortaggio sono spinte dal gusto agrumato del limone e da quello fresco e leggermente piccante della menta e dello zenzero.
Voland accompagna le portate a base di pesce, di fegato e di carni marezzate
Piacevole anche con formaggi sapidi e foie gras.
In pasticceria il suo sapore è vincente abbinato a macarons, meringhe, gelati alla crema e al fiordilatte.
 
Ingredienti : sedano 66%, zucchero di canna, succo di limone, menta, zenzero.
Jam in which the diced celery is left slightly crunchy.
The bitter notes of the vegetable are boosted by the citrusy taste of lemon and by the fresh and slightly spicy one of mint and ginger.
Voland accompanies dishes based on fish, liver and marbled meats
Also pleasant with savory cheeses and foie gras.
In pastry, its flavor is a winner combined with macarons, meringues, cream and fiordilatte ice creams.
Ingredients: celery 66%, brown sugar, lemon juice, mint, ginger.
If you are a customer who wants our
products outside Italy, please fill 
in the form below. You will be
contacted as soon as possible