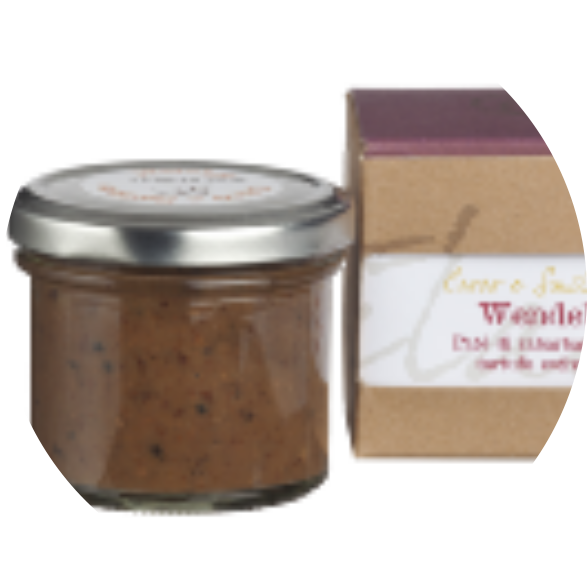 Wendel
Paté di rabarbaro e tartufo nero

A volte il caso fa bene le cose e ti porta a coltivare rabarbaro officinale sui colli di San Miniato. Merito di Isabelle e Denis, una coppia di  amici francesi che vivono in Alvernia e che ci hanno regalato una piantina di rabarbaro, appunto. Pensavamo che non sarebbe sopravvissuta al viaggio e invece…
Wendel "il vandalo" nasce dalla fantasia di Toni per proporre un originale abbinamento tra il rabarbaro e il tartufo nero. Equilibrato e gustoso, questo paté concilia i palati più tradizionali con quelli alla ricerca di sapori inconsueti.
 
Abbinamenti consigliati: cinghiale in umido, brasati, grigliate di carne, crostini, panini spettacolari, salumi magri, primi piatti.
 
Ingredienti: steli di rabarbaro, cipolle, vino chianti, nocciole, zucchero di canna, olio extra vergine di oliva, sale, tartufo estivo.
Sometimes chance leads  you to experiment, for example growing rhubarb in the hills of San Miniato. It all started with a little rhubarb plant, the gift from friends, a French couple, who live in Alvernia. We didn't think it would make it, but instead…
Wendel "The Vandal" derives from my fantasy to propose an original coupling between rhubarb and black truffle. This is a balanced and savoury velouté that conciliates the most traditional palates with the palates that are looking for unusual flavours. Excellent to prepare hors d'oeuvres and first courses, Wendel enriches pleasantly meat dishes as well.
Ingredients: Rhubarb stems, red onion, chianti wine, hazelnuts, brown sugar, extra virgin olive oil, salt, black truffle.
If you are a customer who wants our
products outside Italy, please fill 
in the form below. You will be
contacted as soon as possible