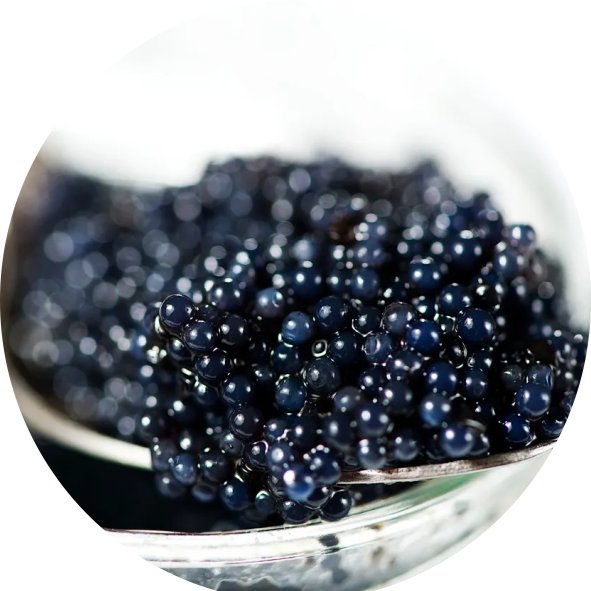 Per Sé – Baerii Black

Caviale di Storione

Il caviale Baerii è un caviale equilibrato e armonico: dal sapore marino all'inizio, si intensifica man mano fino alla fine, rilasciando delicate sfumature lungo il percorso. Al palato è molto cremoso e persistente, con un retrogusto di mare molto sottile. I suoi colori spaziano dalle sfumature del marrone, grigio scuro, nero, a volte marrone dorato-verde. La sua consistenza soda e cremosa accarezza il palato ed esplode sprigionando i suoi aromi e sapori.
Sotto questa denominazione troverete il prezioso caviale degli storioni Acipenser Baerii (Storione Siberiano) e Acipenser Naccarii, che può essere considerato l'esclusivo Storione Iberico. Il marchio Per Sé si riferisce al metodo tradizionale iraniano o persiano per fare il caviale.
Ingredienti: Uova di storione, sale, conservante: E285
Baerii caviar is a balanced and harmonious caviar: with a marine flavor at the beginning, it gradually intensifies until the end, releasing delicate nuances along the way. On the palate it is very creamy and persistent, with a very subtle sea aftertaste.
Its colors range from shades of brown, dark gray, black, sometimes golden brown-green. Its firm and creamy texture caresses the palate and explodes releasing its aromas and flavors.
Under this denomination you will find the precious sturgeon caviar Acipenser Baerii (Siberian sturgeon) and Acipenser Naccarii, which can be considered the exclusive Iberian sturgeon.
The Per Sé brand refers to the traditional Iranian or Persian method of making caviar.
Ingredients: Sturgeon eggs, salt, preservative: E285
If you are a customer who wants our
products outside Italy, please fill 
in the form below. You will be
contacted as soon as possible