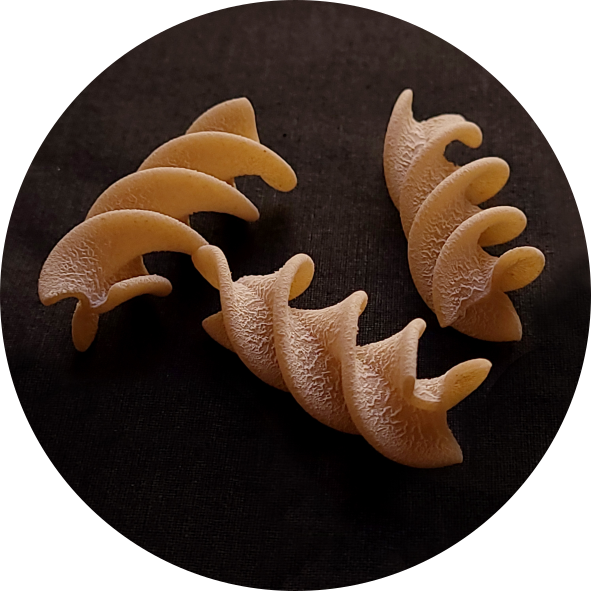 La pasta viene realizzata a seguito della lavorazione di grani coltivati direttamente nella azienda da noi selezionata. Nella coltivazione delle varietà selezionate seguiamo tecniche agronomiche tali da raggiungere i migliori risultati non solo a livello proteico. La cura e la passione che utilizziamo in tutte le fasi di produzione conferiscono alla pasta profumo, nervo e un'ottima tenuta in cottura. Con la molitura otteniamo una semola calibrata, dalla granulometria grossa, dal colore giallo intenso ottenuta direttamente dal cuore del chicco del grano duro. La lavorazione viene fatta con trafile in bronzo cui segue una lenta essiccazione il che dona alle nostre paste una ruvidezza e una porosità che consentono di trattenere al meglio i condimenti. Tutto questo conferisce, oltre che le migliori qualità nutrizionali, anche qualità organolettiche tipiche di un prodotto curato in ogni fase del processo di preparazione. Il profumo e il sapore del grano facilmente percepibili fin dalla cottura e durante la degustazione sono la peculiarità a garanzia del nostro lavoro.
Nella pasta all'uovo, oltre alla semola dei nostri grani vengono utilizzate esclusivamente uova fresche sgusciate al momento. La pasta viene stesa a mano ed essiccata lentamente a temperatura bassa.
The pasta is made following the processing of grains grown directly in the company selected by us. In the cultivation of the selected varieties we follow agronomic techniques such as to achieve the best results not only at the protein level. The care and passion we use in all stages of production give the pasta perfume, nerve and excellent cooking resistance. With the milling we obtain a calibrated semolina, with a coarse grain size, an intense yellow color obtained directly from the heart of the durum wheat grain. The processing is done with bronze dies followed by a slow drying which gives our pasta a roughness and a porosity that allow to better retain the condiments. All this confers, in addition to the best nutritional qualities, also organoleptic qualities typical of a product treated in every phase of the preparation process. The aroma and flavor of the wheat easily perceptible from cooking and during tasting are the peculiarities that guarantee our work.
In egg pasta, in addition to the semolina of our grains, only fresh eggs shelled at the moment are used. The dough is rolled out by hand and dried slowly at a low temperature.
If you are a customer who wants our
products outside Italy, please fill 
in the form below. You will be
contacted as soon as possible