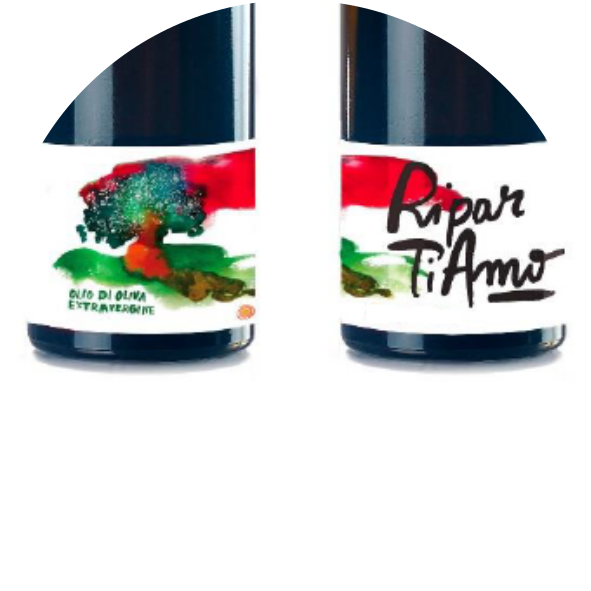 RiparTiAmo

Blend di Carolea, Nocellara Etnea, Nocellara del Belice, Roggianella e Coratina
L'olio si presenta al naso con buona intensità di profumi di frutto verde e giustamente maturo, caratterizzati da sentori di pomodoro, erba falciata, cardo e mandorla. Al palato, si coglie gusto amaro ben equilibrato e di giusta intensità, coerente con la durevole percezione piccante, mai eccessiva. Nel retrolfatto, predominano nette percezioni di pomodoro, erba e carciofo. Apprezzabile la freschezza di chiusura percepita nella raffinata definizione del mallo di noce. Complessivamente, si evidenzia armonia olfatto-gustativa, con finale gradevolmente piccante di peperoncino.
Blend di: Carolea, Nocellara etnea, Nocellara del Belice, Roggianella e Coratina
The oil presents itself to the nose with good intensity of aromas of green and rightly ripe fruit, characterized by hints of tomato, mown grass, thistle and almond. On the palate, the bitter taste is well balanced and of the right intensity, consistent with the lasting spicy perception, never excessive. In the aftertaste, clear perceptions of tomato, grass and artichoke predominate. The closing freshness perceived in the refined definition of the walnut husk is appreciable. Overall, there is an olfactory-gustatory harmony, with a pleasantly spicy chilli pepper finish.
Blend of: Carolea, Nocellara etnea, Nocellara del Belice, Roggianella and Coratina
If you are a customer who wants our
products outside Italy, please fill 
in the form below. You will be
contacted as soon as possible