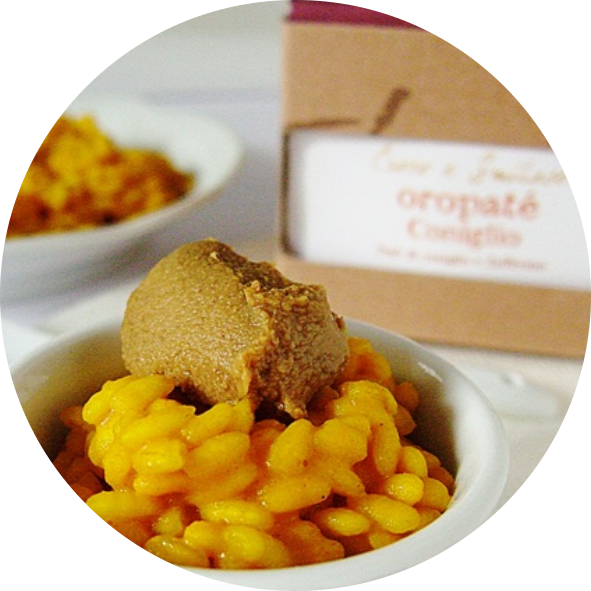 Oropaté Coniglio

Paté polpa e fegato di coniglio allo zafferano
Ecco un particolare paté, realizzato però da quel geniaccio di chef che di nome fa Fulvio Siccardi.
 
Abbinamenti consigliati: su pane grigliato con un velo di burro, nel risotto allo zafferano, per impreziosire lasagne ai porcini.
 
Ingredienti: Polpa di coniglio, fegato di coniglio, scalogno, carote, burro, marsala, olio di oliva, latte parzialmente scremato, amido di mais, prezzemolo, alloro, sale, zafferano in stigmi.
This paté is an original recipe of Fulvio Siccardi. The chef suggest to realize "crostini" with a fill of butter, or to addict it to a special risotto alla milanese.
Oropaté is excellent as well with lasagne and mushrooms.
Ingredients: Rabbit meat, rabbit liver, onions, carrots, butter, Marsala wine, olive oil, half-skim-milk, maize starch, parsley, laurel, salt, pure saffron threads.
If you are a customer who wants our
products outside Italy, please fill 
in the form below. You will be
contacted as soon as possible