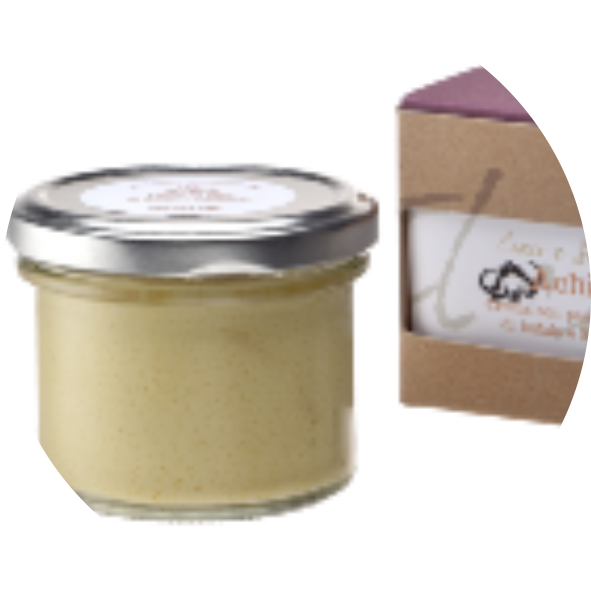 Achim
Condimento a base di burrata e zafferano
Achim, il dio bufalo della mitologia magrebina presta il nome a questa burrata di bufala piacevolmente vivificata dal nostro zafferano.
Pastosa e vellutata, si presta per la preparazione di primi piatti di pasta o riso. Un idea? Magari accompagnata da gamberetti, alici o fiori di zucca.
Ottima anche per realizzare hamburger e pizze gourmet, gelati, dolci al cucchiaio e inedite tartine.
Achim, il nostro condimento a base di burrata e zafferano, unisce due eccellenze alimentari italiane permettendovi di creare piatti di alto livello qualitativo. All' operatore di settore permette un risparmio sui tempi di lavorazione in cucina. Al consumatore finale di gustare un piatto gourmet.
Ingredienti: Panna, Panna di siero di latte di bufala, Latte, Olio di oliva, Farina di riso, Burro, Sale, Zafferano
Achim, the buffalo god of North African mythology lends his name to this buffalo burrata pleasantly enlivened by our saffron. Pasty and velvety, it is suitable for the preparation of pasta or rice first courses. An idea? Perhaps accompanied by shrimp, anchovies or courgette flowers. Also excellent for making gourmet hamburgers and pizzas, ice creams, spoon desserts and original canapés.
Achim, our condiment based on burrata and saffron, combines two Italian food excellences allowing you to create high quality dishes. It allows the sector operator to save on processing times in the kitchen. The final consumer to enjoy a gourmet dish.
Ingredients: Cream, Buffalo milk whey cream, Milk, Olive oil, Rice flour, Butter, Salt, Saffron
If you are a customer who wants our
products outside Italy, please fill 
in the form below. You will be
contacted as soon as possible