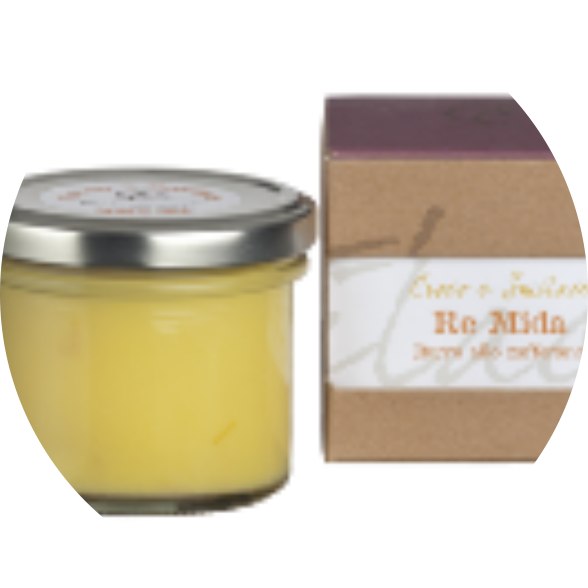 Re Mida

Burro allo zafferano

Narrano gli antichi che Re Mida avesse il dono di trasformare in oro tutto quello che toccava, proprio come questo burro. La sua consistenza vellutata e il suo profumo intrigante riescono ad impreziosire qualunque ricetta vogliate creare, dolce o salata che sia.
 
Abbinamenti consigliati: ottimo per condire primi piatti a base di pasta e di riso. Da provare su crostini a base di caviale , ostriche, bottarga e frutti di mare.
Per la preparazione di uova al tegamino, magari con l'aggiunta di tartufo in scaglie. Nell'impasto di biscotti e dolci da credenza che prevedano l'uso di un burro tradizionale.
 
Ingredienti: burro, zafferano purissimo in stigmi.
In ancient times, King Mida had the power to turn into gold whatever he touched and the same can be said about this butter.
Its downy texture and its spicy taste have the gift to make precious any recipe you want, sweet and savoury.
 
We suggest to use it as a dressing for pasta and rice, with toasted bread and caviar, oysters, salmon and sea-food, with all the recipes ( sweet and savoury ) with traditional butter.
 
Ingredients: butter, pure saffron threads.
If you are a customer who wants our
products outside Italy, please fill 
in the form below. You will be
contacted as soon as possible