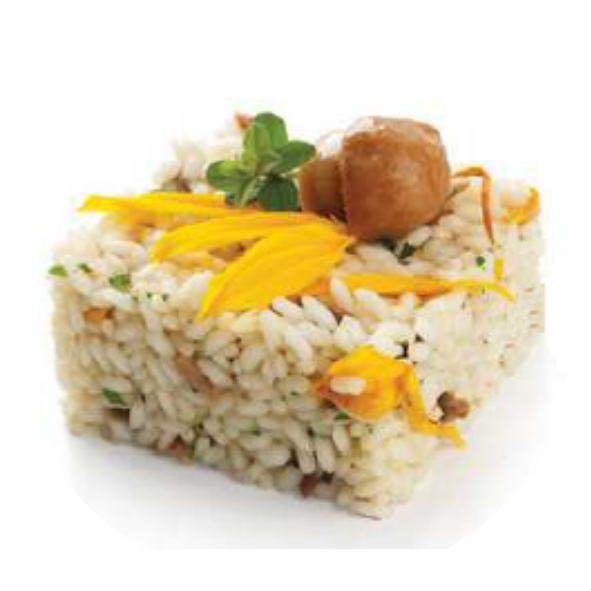 I risotti Fioriti nascono dall'unione del migliore riso carnaroli con fiori eduli (viola, calendula, girasole, erba cipollina, acacia, tarassaco, fiordaliso, malva, primula, rosa), piccoli frutti, verdure ed erbe aromatiche (basilico, levistico, maggiorana, prezzemolo, santoreggia).
Le ricette di questi risotti,così gustosi, raffinati, colorati, facili e veloci da preparare sono state studiate selezionando i migliori ingredienti
classici, come i funghi porcini, in abbinamento a prodotti inusuali.
 
Ingredienti : Riso carnaroli, funghi porcini, aglio, scalogno, prezzemolo, maggiorana e petali di girasole
Fioriti risottos are born from the union of the best carnarol rice with edible flowers (violet, calendula, sunflower, chives, acacia, dandelion, cornflower, mallow, primrose, rose), small fruits, vegetables and aromatic herbs (basil, lovage, marjoram, parsley, savory).
The recipes of these risottos, so tasty, refined, colorful, easy and quick to prepare, have been studied by selecting the best ingredients
classics, such as porcini mushrooms, combined with unusual products.
Ingredients: Carnaroli rice, porcini mushrooms, garlic, shallots, parsley, marjoram and sunflower petals.
If you are a customer who wants our
products outside Italy, please fill 
in the form below. You will be
contacted as soon as possible